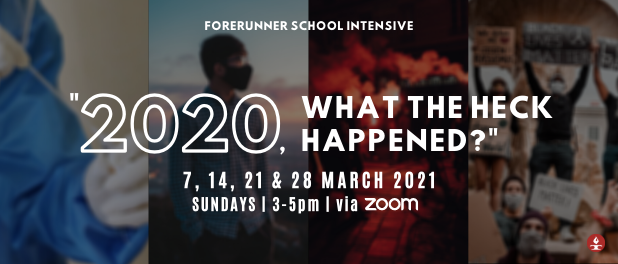 Dates: 7, 14, 21, 28 March 2021
Day and Time: Sundays, 3pm – 5pm
Online Platform: Zoom
(Link will be sent out once course is confirmed).
Registration Closed.
Many of us crossed over into 2020 with high hopes, anticipation and expectation. After all, it was 2020. It was supposed to be a year to receive 20/20 vision from the LORD. As we know by now, 2020 hit us instead like a storm, hurricane and earthquake all at once. It was one of the worst years in human history. No one was spared the disruption. Even the prophetic people of God were blindsided by this unprecedented year.
What happened? What is God saying or doing? What can we expect for 2021?
It is vital for us to interpret 2020 correctly in order to move forward into 2021. Surely we are moving into the divine moment of God in the generation of Jesus' return. 2020 was a year of divine course correction and perspective alignment where the LORD divinely interrupted and intervened in His mercy, grace and kindness, so as to bring forth divine instruction and injection for His people to walk in the fullness of His grand storyline for the generation of Jesus' return!
Join us online over four Sundays in March 2021 for:
Indictment unto Invitation (Jeremiah 6:16)
Is that really You, O God? (Haggai 2:6–9; Hebrews 12:25–29)
What does God require of us?
What can we expect for 2021 and beyond?