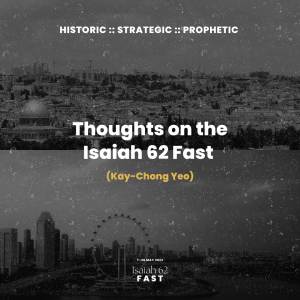 The Isaiah 62 Fast was truly HISTORIC and unprecedented! Surely the Lord has made manifest His zeal for Zion and directed the attention of the global Body of Christ to the apple of His eye.
As Houses of Prayer and prayer ministries in Southeast Asia, we too have done something together that was unprecedented. By the grace of God, non-stop worship and prayer arose for Israel out of this region (specifically in Singapore) for 21 days!
Thank you, Jason and Burning Hearts for leading the charge in gathering the Body of Christ in SEA for this historic 21-days!
More than being historic, this fast is also STRATEGIC. It will SHIFT the focus and conversation of Gentile believers to God's zeal, heart and plan for Israel.