Every Friday
8:00pm–9:30pm

We take these sessions to go deep and wide into various teachings on a particular biblical series or topic. The aim is to equip Christians with topics that are relevant to them.

Number of sessions: variable depending on topic
Hours per session: 1hr 30mins
Frequency: weekly
Day of the week: Friday evenings, 8:00pm to 9:30pm
Mode of teaching: Lecture style
Platform: Facebook Live
Listen to / Watch Session Recordings
---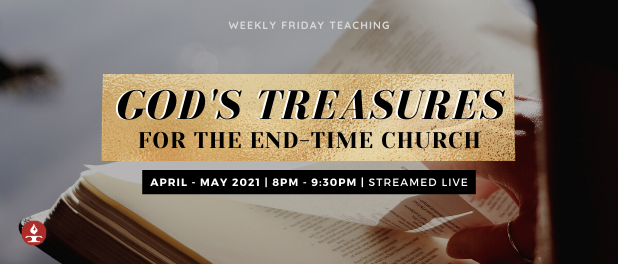 In every major transitional generation, God prepares and equips His people for the turmoil and upheaval that comes with that generation.
As we have entered into what Jesus talks about in Matthew 24, and are fast-racing towards the End of the Age, God is inviting us to reach for the treasures He has for us in this transitional generation, so that we can stand as the troubles increase. More than just stand, He promises that His glory will arise over us so we can shine (Isa. 60:1–3).
Jesus wants to give us, His End-Time Church, these treasures that will give us strength and might in our hearts — deep intimacy with Him, partnership, fruitfulness, love and joy (John 14–15), as well as unprecedented revelation of who He is from the Book of Revelation.
Join us every Friday as we search out His Word, and reach for these treasures so that we can stand and shine in the midst of deepest darkness.
2021

SERIES

God's Treasures for the End-Time Church

Date

Topic

11 Jun

The Beauty and Worthiness of Jesus through Revelation 4 – 5

4 Jun

Knowing the Jesus of Revelation 19: the Key to Having Confidence at End of the Age II

28 May

Invitation to Fruitfulness, Fullness of Love & Fullness of Joy (John 15)

21 May

Invitation to Abiding in Christ (John 15)

14 May

Invitation to Intimate Partnership with the Triune God (John 14:12–24)

7 May

NO FRIDAY TEACHING

30 Apr

Trust in God: The Key to Overcoming the "Matthew 24 Trouble" (John 14:1)

23 Apr

Introduction to the Upper Room Discourse: Jesus' Intimate Conversation with His Beloved (John 13 – 17)

16 Apr

"Come to the Table" (Rev. 3:18–20)

9 Apr

NO FRIDAY TEACHING

2 Apr

Knowing the Jesus of Revelation 1: the Key to Having Confidence at the End of the Age (with Communion after)

---

26 Mar


NO FRIDAY TEACHING
for the duration of
the 40-DAY PHIL. 3:12 FAST

19 Mar

12 Mar

5 Mar

26 Feb

NO FRIDAY TEACHING

SERIES

The Word of the Lord 2021

Date

Topic

19 Feb

WOTL V: Re-reset to the One Thing

12 Feb

NO FRIDAY TEACHING

5 Feb
Breakout Teachings (No Live Stream)

29 Jan

WOTL IV: Isa. 60 — Coming Crises and Coming Glories

22 Jan

WOTL III: Embrace, Engage, Enter In

15 Jan

WOTL II: The Divine Moment of God

8 Jan
Breakout Teachings (No Live Stream)

1 Jan

WOTL I: Indictment unto Invitation (Heb. 12:1 & Rev. 22:17)
Topics updated as of 6 Apr 2021
TBD: To Be Determined


Topics in green are stand-alone teachings and not part of a series.
---
PAST TOPICS – 2020
Aug – Dec 2020
The Bride of Christ (audio and video available)
May – Jul 2020
Standalone Teachings (audio and video available)
Feb – Mar, Jun – Jul 2020
Return to the Fundamentals; Strengthen What has Become Weak
(audio and video available)
Jan – Feb 2020
The Word of the Lord 2020 (audio available for download)
PAST TOPICS – 2019
Aug - Sep 2019
Word for the Season from the Book of Malachi
May - Aug 2019
Encountering the Personhood and Emotions of God (audio available for sale)
Mar - Apr 2019
Becoming the People of One Thing (audio available for sale)
Jan - Feb 2019
The Word of the Lord 2019 (audio available for download)
PAST TOPICS – 2018
Oct - Dec 2018
The 7 Letters to the 7 Churches (audio available for sale)
June - Sept 2018
Encountering the Person of the Holy Spirit (audio available for sale)
May 2018
The Truth About Empowering Grace (audio available for sale)
Feb - Mar 2018
The Word for 2018 (audio available for download)
Jan 2018
Our Prophetic History
PAST TOPICS – 2017
Sept - Dec 2017
The Life of David (Part Two) (audio available for sale)
Feb - Sept 2017
The Book of Joel (audio available for sale)
Jan 2017
The Word for 2017 (audio available for download)
PAST TOPICS – 2016
Dec 2016
Beholding the Glory of Jesus (audio available for download)
Jul - Nov 2016
Cultivating a Lifestyle of Prayer (audio available for sale)
May - Jul 2016
The Plan of God for Israel at the End-of-the-Age (audio available for download)
Feb - May 2016
Growing in Intimacy with God (audio available for sale)
Jan 2016
The Word for 2016 (audio available for download)
PAST TOPICS – 2015
Dec 2015
What is Grace? - Part I (audio available for download and sale)
Feb 2015 - Nov 2015
Song of Songs: The Believer's Journey of Intimacy with God (notes and audio available for sale)
Jan 2015
A Call to a Season of Consecration and Contending (notes and audio available for download)
PAST TOPICS – 2014
Sep 2014 - Nov 2014
The I-H-O-P Lifestyle (notes and audio available for download)
Dec 2013 - Aug 2014
The Sermon on the Mount (notes and audio available for sale)
PAST TOPICS – 2013
Oct - Nov 2013
The Knowledge of God
Jun - Sep 2013
The End-Times: Developing Confidence in Times of Uncertainty
Dec 2012 - May 2013
The Life of David
PAST TOPICS – 2012
Aug 2012 - Nov 2012
The First and the Great Commandment
Jul 2011 - Jun 2012
Encounter God series
You may purchase MP3 recordings of the teachings by emailing us at info@onethingministries.net