INFORMATION FOR VISITORS
DETAILS FOR ENTRY (w.e.f. 29 Aug 2022)
There is no longer a need to register to attend our sessions. All sessions on our meeting schedule are opened to public unless otherwise stated.
ENTRY TIMINGS
Entry into the building in which we are located will be through the main entrance of the building (the glass doors facing Lorong 19). Take the lifts up to the 6th floor. (Exception: Saturday afternoons — see below.)
Please note that the main entrance will be closed during the following times:
• Daily after 7:45pm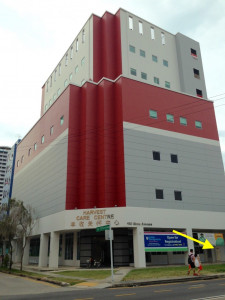 • Saturdays after 2:30pm
• Sundays and public holidays

EXCEPTION
For our Saturday 4–6pm sessions, entry will be via the side entrance (see yellow arrow).
The side entrance will be opened once at 3:45pm to allow people entry into the building.
Please come on time as the door will no longer be opened after that.
MASK-WEARING
In line with the easing of Safe-Management Measures nationwide, mask-wearing will no longer be required in the Prayer Room from 29 August 2022.
Nevertheless, we exhort all who visit to be mindful of their current health status and assist us in ensuring that the fire on the altar is kept burning.
We reserve the right to request that visitors wear a mask or to visit us another day if they exhibit symptoms that may affect others in the prayer room.
SESSION TYPES
Our current prayer room consists of different types of worship and prayer:
Devotional Worship focuses on who Jesus is and ministering to His heart through worship in a corporate and personal way. Read on…
Devotional-Intercession combines worship and intercession, and focuses on praying for the things that are on God's heart and in context of the generation we are living in. Read on…
Singing with the Word provides an atmosphere conducive to meditating on the Word of God and entering into agreement with God's heart. You can open up the Word and meditate on God's truths as the worship team sings through and expounds passages of Scripture.
Global Bridegroom Fast (GBF) — The GBF is a monthly 3-day fast & the gathering of God's people to seek His face. Read on…