In light of the words that God has spoken about this decade of Preparation for the Times, this online equipping course aims to start believers on their journey of preparation to become the Daniel 11:32–33 people.
Endorsement
This Preparation for The Times (Intro) online equipping course equips believers to walk in understanding and grace "for such a time as this" (Esth. 4:14–16)…

A combination of both equipping through the Word and empowerment by the Spirit, this course aims to help believers on their journey to become the Daniel 11:32–32 people: those who know God, are strong (in our inner man), do great exploits (supernatural works) and are people of understanding.

I encourage and urge you to embark on this course of preparation as we behold the imminent return of the Lord!
– Mike Bickle (Founder, IHOPKC)
(Read full endorsement)
---
What Has God Been Saying?
What is the Goal of this Decade of Preparation?
How do we Approach the Study of these Messages?
Using Daniel 11:32–33 as a template, this course brings together foundational messages that will equip believers to:
1. Know God
2. Be Strong
3. Carry out Great Exploits
4. Be a People of Understanding
Preparation for the Times (PFTT) is free of charge and can be completed at each person's own pace. Our recommended pace of study is to complete this course within 1 to 1.5 years.
With a one-year timeline, this course can be completed by setting aside about half an hour a day (or 3.5 hours a week) to engage the Lord in this journey of preparation.
½ day Conference for PFTT registrants
All who registered for the Preparation for the Times will be invited to a ½ day in-person conference on The Spiritual Realm and Cosmic Warfare, 12pm to 6pm in 2024. This is part of the syllabus for this online course. We will keep you posted in due time.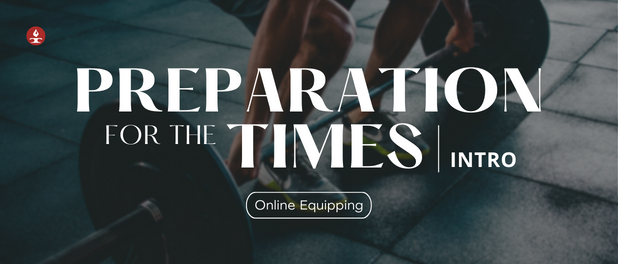 (You will be directed to a third-party site. The platform "Thinkific" is being used to administer this course.)
(CONNECT sessions of three different tracks for registrants who have signed up for the Preparation for the Times (Intro) online equipping course.)
---
Testimonials from Current Students
This course syllabus clearly outlines and provides the framework to equip me – It addresses these questions that I have been pondering and praying about for quite some time: How then shall I live at such a time as this? What and how shall I prepare for the Times?
– Wong Jia Niang
This course is so relevant for the times and I like how it has been curated into a curriculum that makes so much sense. Thank you for doing this! I heard some of this teaching before but I feel that the Holy Spirit is making it come alive now – in 2023 – and giving understanding Himself. So it's different coming under this same teaching in 2023 vs 2013.
– Edna Koh
This online equipping course helps my family and I to be more spiritually strengthened, devoted to Christ and prepared for the times to come.
– Andrew Wong
The curriculum is very detailed and I can listen a bit, then continue again on the go. I highly recommend this course to believers who would like to embark on their journey of preparation to become the Daniel 11:32–33 people.
– Wallis
---
Further Equipping
Preparation for the Times (Intro) is only a start to our journey of preparation in this Historic Transitional Decade. The materials provided have been selected to give believers a basic and broad foundation at an introductory level.
For more in-depth and extensive resources to continue your journey, please take a look at our study guides and teaching series.
You can also view the price list here.
Contact us at equip.ihoponething@gmail.com if you would like to purchase any further resources.