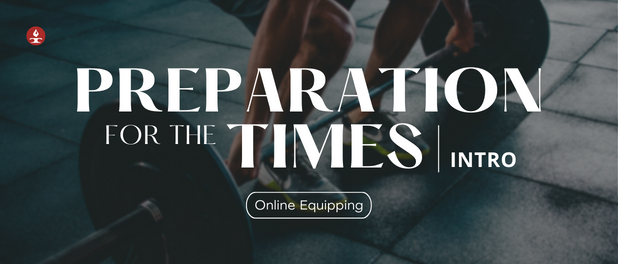 In light of the words that God has spoken about this decade of Preparation for the Times, this online equipping course aims to start believers on their journey of preparation to become the Daniel 11:32–33 people.
Using Daniel 11:32–33 as a template, this course brings together foundational messages that will equip believers to:
1. Know God
2. Be Strong
3. Carry out Great Exploits
4. Be a People of Understanding
Preparation for the Times (Intro) is free of charge and can be completed at each person's own pace. Our recommended pace of study is to complete this course within 1 to 1.5 years.
With a one-year timeline, this course can be completed by setting aside about half an hour a day (or 3.5 hours a week) to engage the Lord in this journey of preparation.
(You will be directed to a third-party site. The platform "Thinkific" is being used to administer this course.)
---
Further Equipping
Preparation for the Times (Intro) is only a start to our journey of preparation in this Historic Transitional Decade. The materials provided have been selected to give believers a basic and broad foundation at an introductory level.
For more in-depth and extensive resources to continue your journey, please take a look at our study guides and teaching series.
You can also view the price list here.
Contact us at equip.ihoponething@gmail.com if you would like to purchase any further resources.