LAYING HOLD of God through Holy Conversation, Divine Dialogue and Sacred Assembly (Phil. 3:12–14)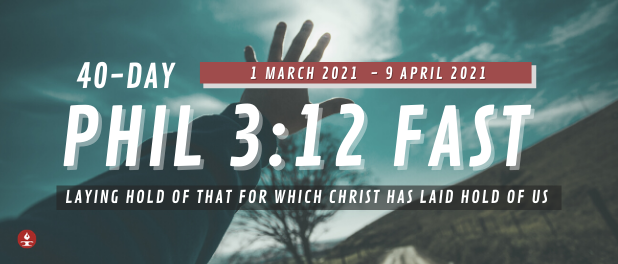 We are living in a critical juncture and prophetic timeframe of human history pertaining to the End of the Age where the Holy Spirit is orchestrating something extraordinary in these critical hours of history. The LORD is inviting us to lay hold of what He has laid hold of us for in this Divine Moment!
When Mike Bickle and the IHOPKC family, in response to Lou Engle's rally to the global Body of Christ, made a call to Houses of Prayer worldwide for a 40-day Fast (March 1 to April 9) to contend for revival and breakthrough for nations, unprecedented global harvest, and Israel (among other things), our hearts were excited and yet in our flesh, we were not very enthusiastic.
But in His kindness, the LORD stirred a deep sense of holy alarm in our spirit to recognize the importance and significance of this global fast. More than contending for revival and breakthrough (which we want), this fast is related to the coming glory of God, the future promises of God pertaining to the return of Jesus and the need to make ourselves ready for the coming historic pressures!
The Spirit of God made it clear that there is an urgent necessity to lay hold of grace, godliness, strength, and authenticity in the LORD so that we can burn and shine in the coming hours. We are awakened to the desire of God to set His Church on fire, which will result in the rising up of His prophetic witnesses in the midst of increasing global rage against the LORD and His truth (Psalm 2:1-3).
Therefore, we are saying YES to this divine interruption from life business as usual and embrace this voluntary disruption in order to posture our hearts unto the LORD to be made ready for the future involuntary disruptions that will happen in far greater measures (Matthew 24:1–14).
Holy Conversation :: Divine Dialogue :: Sacred Assembly
There will not be weekly Friday teachings during this period. We want to take time to come together as a community to have ample conversations on passages of Scriptures that the Holy Spirit is highlighting and emphasizing in this season (i.e. Matthew 24; Daniel 11–12; Isaiah 19; 60:1–3; Haggai 2:4–9; Hebrews 12:25–29; Zechariah 3–4; John 14–17).
Our desire is to give the Holy Spirit permission and space to cause our conversations to transcend into holy moments where the LORD will impart His Word and His heart unto us, which will give rise to applications and responses that cause transformation.
More than that, we want to turn the holy conversation unto divine dialogue with the LORD at the place of personal prayer so as to allow the Holy Spirit to bring forth history with God, a greater depth of godliness, and strength that will be critical in the coming hours (Joel 2:12–14).
This will be a season where we want to congregate for Sacred Assemblies (Joel 2:15-17) to lay hold of what the LORD is inviting us to in this Divine Moment.
We want to REACH FOR GOD'S FULLNESS for this season and for our generation. We refuse to be denied the fullness of His prophetic destiny. We refuse to fall short of what He has in store for us.
We are nearing the greatest revolution in human history — the eschatological revolution of Jesus. It happens only one time, one generation, and it is OUR MOMENT!
May we posture our hearts to press, to reach and to contend for what Jesus has laid hold of for us!
EMBRACE :: ENGAGE :: ENTER IN