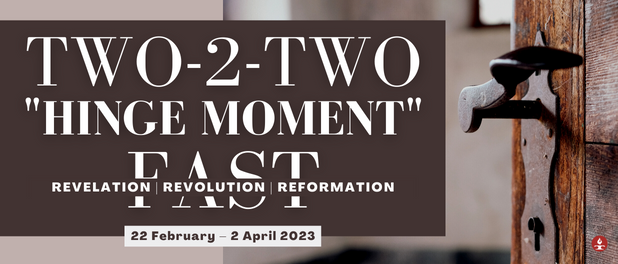 Update: In response to the Isaiah 62 Global Solemn Assembly for Israel that has been called, we have modified the original duration of our Two-2-Two "Hinge Moment" Fast in order to better prepare ourselves as a community to participate fully in the unprecedented 21-day Solemn Assembly.
---
In this Sovereign Appointed Time, the Lord has spoken to us that 2023 is a significant "hinge" year upon which the door of history swings. How it swings will depend on how God's people respond to Him in this critical hour.
Various global events in recent weeks have also alerted us to the escalating rage of spiritual darkness; however, there is also a great convergence and expectancy across the global body of Christ to contend for and see God's promise of His glory breaking in upon this generation.
Thus, more than ever, now is the time to posture and position ourselves at the place of fasting and prayer (Joel 2:12–17), so that we will be ready to receive the greatest outpouring of the Spirit (Acts 2) in this Isaiah 60:1–3 moment.
The Psalm 2 Crisis demands a Joel 2 Response for an Acts 2 Revival!
This is truly a "hinge moment" and as people of light, we want to contend for the door of history to swing towards the light and glory of God invading this generation.
Lou Engle said, "There are moments in history when a door for massive change opens, and great revolutions for good or evil spring up in the vacuum created by these openings. In these divine moments, key men and women and even entire generations risk everything to become the hinge of history, the pivotal point that determines which way the door will swing."
This is THE moment to risk it all.
This is THE moment to write new history with God.
This is THE moment to arise as history makers!
CALL TO FAST
We are fasting for 40 days in this Two-2-Two "Hinge Moment" Fast to contend for a spiritual revolution unto the arising of the John 17 generation, the fulfilment of God's promises in this 40th year and the fullness of the nation of Israel.
The fast will start on 22 Feb 2023 and end on 2 Apr 2023.
From 3 Apr – 6 May, our community will take the time to prepare our hearts for the Isaiah 62 Global Solemn Assembly for Israel.
FAST DETAILS
22 Feb – 2 Apr 2023: 40 days Liquid Fast
We are focusing on contending for spiritual revolution among God's people, the breaking in of the Holy Spirit, and for God's prophetic promises for this generation that have reached their 40th year.
SIGNIFICANCE OF NUMBER OF DAYS
40 → This generation is "crossing the Jordan" into God's promises and glory.
We invite all who are stirred to pray for God's purposes for this hour to join in this fast, in whatever way possible, to cry out for His move in this time!
---
Click here for resources on fasting.