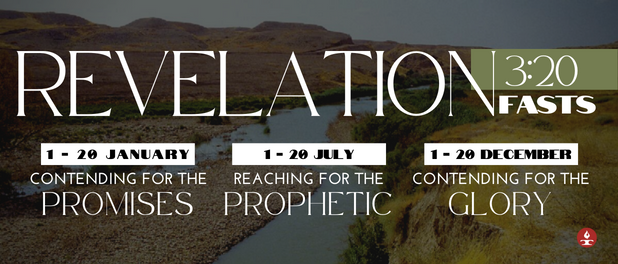 In this Rev. 3:20 Moment and Historic Transitional Decade, the Lord has led us to go on three 20-day fasts in 2022 to contend for three specific transitions in this kairos hour.
The fasts correspond to three key transitions at the Jordan River that we see in Scripture:
1) From Moses to Joshua (Josh. 3) — signifying the entering into the actualisation of God's promises;
2) From Elijah to Elisha (2 Kings 2) — signifying the arising of the prophetic generation;
3) From John the Baptist to Jesus (Matt. 3) — signifying the transition into greater glory and intimacy with Jesus.
We are at the Jordan River Moment. We are at the Rev. 3:20 moment. We want to open the door of our hearts and press in together with hearts of expectation in this place of transition!
Dates
1 – 20 Jan
:: Contending for the Prophetic Promises ::
1 – 20 Jul
:: Reaching for the Double-portion of the Prophetic ::
1 – 20 Dec
:: Contending for the Increase in Glory and Intimacy ::