LAYING HOLD of God through Holy Conversation, Divine Dialogue
and Sacred Assembly (Phil. 3:12–14)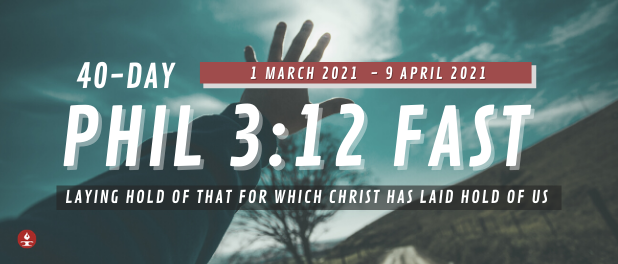 We are living in a critical juncture and prophetic timeframe of human history pertaining to the End of the Age where the Holy Spirit is orchestrating something extraordinary in these critical hours of history. The LORD is inviting us to lay hold of what He has laid hold of us for in this Divine Moment!
Are you curious about whether we are currently living in the End Times?
Have you been told it's impossible to understand what the End Times are about?
Do you desire to know what God says through His Word about the End Times?
Join us for this Introductory Series on the End Times starting 6 March!

"Because You Chose Us" is a song inspired by the Book of Malachi. Beyond the stern warnings and rebukes laid out in this passage, God the Father through His tender heart, in fact, reveals what He is looking for in His people. This is God bringing us back to see the heart behind His invitation & call for us as priests and Levites, and His reminder for us to recognise the privilege of serving the Lord of Hosts.
"Sons of Oil" is based on Zechariah 3 and 4, and it has three themes. Firstly, it's about having confidence in the Lord's grace and mercy found in Jesus Christ. Secondly, it's about cultivating a deep relationship with the Lord. Thirdly, it declares the all-sufficient grace of God for us to overcome the difficulties in life that come our way when we live out His will.
Covid-19 has brought the nations to a pause. The Church has not been exempted. What is more — our Sovereign Lord has orchestrated and allowed this!
If God is the One who is in control, then our answers can only be found in Him. If God is the One who orchestrated this, then surely He is looking for a response from His people. If God is trying to get our attention through this, something good will come out of it if we say "yes" and respond.
In this 3-part dialogue, Henson Lim (Founder and Director, Archippus Awakening) and Yeo Kay-Chong (Director, IHOP – One Thing Ministries) share their insights and perspectives on the following questions as spiritual leaders in this land:
"What does God want from His people?"
"What does He want to awaken us to?"
"What does He want to reveal and remove?"
"What does He want to align us to?"
In light of the COVID-19 crisis that is affecting many nations around the world, it is crucial for God's people to correctly interpret what is happening and to understand what the Lord wants from His people in this time.
The world has entered a new normal. However, are we as God's people hearing Him correctly and responding rightly to Him? Or are we simply waiting for this to blow over so that we can go back to our lives business-as-usual?
God's everlasting Word provides the answer as to what we need to do in such a time as this. It gives us the grid through which we can make sense of this global crisis, and the answers to the question, "How then shall we live?"
READ FULL PDF ARTICLE (30 pgs):
Making Sense of the Global Crisis and How Then Shall We Live?
(from Kay-Chong Yeo)
"In December 2015, I had a prophetic dream. In that dream, a voice that sounded like a loud trumpet said to me, 'Storm is coming!'
Immediately, I saw dark clouds accumulating in front of me and huge winds began to blow. A rising tide of floodwaters swept towards me.
Suddenly, the voice said to me again, 'Look! Stand on that Rock!' I looked and a Rock arose to my right. I climbed onto the Rock in the midst of the rising floodwaters and strong winds. The winds were so strong that I could not balance myself.
The voice shouted at me again, 'Cement your feet on the Rock so that you may have strength to stand.' Then I awoke and Luke 21:36 immediately came to mind."
Luke 21:36, "Watch therefore, and pray always that you may be counted worthy [i.e. may have strength] to escape all these things that will come to pass, and to stand before the Son of Man."
Today, the storm is here.
If we understand the biblical narrative for what is to come (Matt 24, Mk 13, Lk 21), things will not get better.
Joel chapter 2 gives us the clearest answer in how to respond in crisis!
The only solution is to SHIFT, ALIGN and RESET to God!
The key is to be REAL, DEEP and AUTHENTIC in our walk with Jesus!
Things will not get better,
but we can grow stronger
we can burn hotter
we can shine brighter!
---
Weekly Friday Teaching
There will be NO FRIDAY TEACHING
for the duration of
the 40-Day Phil. 3:12 Fast
Click here for teaching schedule…
---
Forerunner School Intensive
"2020, What The Heck Happened?"
7, 14, 21, 28 Mar 2021
Sundays, 3–5pm
via Zoom
Registration Closed
---
Prophecy Room Online
Saturdays
6 Mar, 3 Apr, 1 May 2021